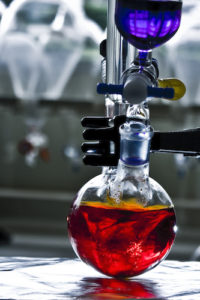 In this section, we describe a series of practices related to the reactivity of functional groups that are usually studied in an experimental course of Organic Chemistry.
Most of the experiments described correspond to one-step transformations. In addition, others deal with the multistep synthesis of a compound and the study of the concept of protective group within a synthetic route.
For this reason, in some cases a difunctional compound is also used. In this way, it will be used to develop the concept of chemoselectivity against different reagents but of the same family.
Experiment selection
The experiments have been chosen in order to have as wide a range of substrates as possible. Aliphatic or aromatic substrates have been selected, as well as different types of reagents. Also, various types of reactions have been taken into account: for example, substitution, elimination, addition, oxidation-reduction, etc. and reaction conditions (reflux, room temperature, cold, etc.). For this reason, the use of different methods of isolation and purification of organic compounds is also encouraged.
Likewise, the choice of the practicals has the ultimate goal of including the main basic laboratory operations in experiments of low or medium complexity, either as a whole or by choosing a few of them.
Accordingly, a selection of Organic Synthesis Experiments is listed below:
Microscale Experiments
References